Are You One of the Members of Twitter's #savetiktok?
As is known to all, the President Trump told reporters late on Friday, "We may be banning TikTok". Although the command hasn't been carried out, there are lots of TikTok users are afraid of their future, and rising a hot topic on Twitter, which named #savetiktok.
What Do People Say in #savetiktok?
If you go to Twitter and search for this topic, you will find that there are lots of people talking in it every moment.
"TIKTOK IS PEOPLES LIVES IT MEANS EVERYTHING IT MAKES PEOPLE HAPPY ! All I'm seeing is everyone's goodbye videos on Tik tok now and damn it's so sad.." by Ashley Patel
"Please @Microsoft buy Tik Tok I love watching Tik Tok and dueting to some of them I'm gonna try to make more Tik Toks but we have to #savetiktok" by Cassie Slone
"All I'm seeing is everyone's goodbye videos on tiktok and damn it's so sad... 2014-2020Tired face #savetiktok" by charlotte
"Young ppl are saving TikTok from unfair oppression. From the evil gov. That's what makes US great." by Parsley Snow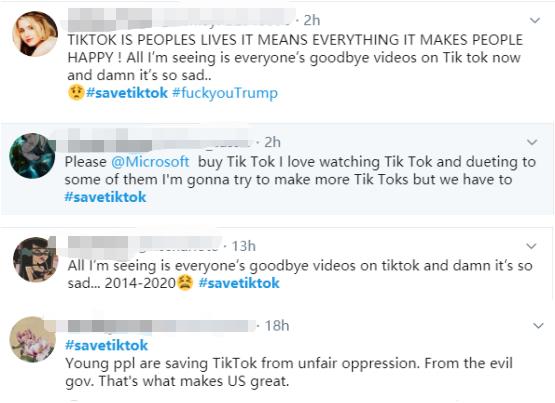 Besides #savetiktok, we found that there were two other topics also talked about the same thing: #HelpSaveTK and #savetiktok2020. You can go and join them to protect TikTok if you are the one want to save it and enjoy it in future.
Some users even start to speak out against Trump's threats to ban TikTok. They think there is no fault of TikTok, it should not be the victim of politics. Some others said that if you think there is risk of privacy leak, then buy it can solve the issue completely. So what's the situation of TikTok in America?
Will Microsoft Buy TikTok in the End?
Although Microsoft had been talked with the owner of TikTok, ByteDance, a Chinese company, Mr. Trump threatened that Microsoft would not buy it. It seems Microsoft listen to the president and stopped the discussion with ByteDance.
However, Microsoft continues to talk with ByteDance at the same day after receiving the call from Mr. Trump. They ensure that the discussion will be complete no later than September 15, 2020 and they will continue to dialogue with the United States Government.
Maybe it's the best solution to keep TikTok in America, as Microsoft possess the best security teams in tech in US. What's more, Microsoft also ensures that all the personal data will be stored in the United States if they finally take over the business of TikTok.
Does TikTok Really Harm to Personal Data?
The Answer is the not sure. As is known to all, the president think TikTok collects users' personal info and share them with the Chinese government. That's the main reason that he claims to people.
However, is it true? As a normal user, I know I can get fun relax with TikTok's short-form video. There are so many interesting things and different life you have never seen.
If TikTok collects my personal data, they should be my nick name, a phone number and many browser histories. I can't see what's the use of these kinds of data. Maybe TikTok can optimize the video that recommended to me due to these data.
What Does TikTok Say?
From the video published by Vanessa Pappas, the U.S. General Manager of TikTok, she said that thanked every user, and didn't plan to go anywhere as TikTok was the home fot creators and artists.
What she emphasized was that TikTok had hired nearly 1,000 people to their US team this year alone, and were proud to be hiring another 10,000 employees in three years.
She said they will ensure the security and privacy, hope users can help stand for TikTok so that they can continue share creativity to all of us.
Will You Stand for TikTok?
Like what we have said, there are many Twitter users join the savetiktok activities, we don't know if it will work, but want TikTok stay.